Lot 1
1987 Porsche 3.2 Targa
More pictures
Lot 2
Pair of Weymess cat figures 17cm tall (repair to 1 figure)
Lot 3
Late Victorian Brass 'Lillie and Reynolds' ship clock
Lot 4
Bretby twin handled Art Nouveau style vase with chinoiserie bird design approx 37cm tall (very unusual)
More pictures
Lot 5
John Loxton framed oil on board 'The Pink Diamond Rhododendrons'. Bought from a studio in Australia '20 Kellett Grove, North Kew, E4, Australia' for 100 guineas
More pictures
Lot 6
Boxed Royal Crown Derby ' Kingfisher' by M. Dudley
Lot 7
Duke and Duchess of Cambridge on horseback Staffordshire style flat back (35cm H x 25cm L approx)
Lot 8
Large antique hand made pine press c1880's (5ft L x 48cm W)
Lot 9
Early 20th Century pine dresser c1910 with glass knobs 5 1/2 ft L
Lot 10
A Classic Dawes tourer bike
Reynolds 531 frame
Top tube 23.5"
Chrome flock and stays
Suntour Honour seals
French Mavil wheels
San Marco Rolls saddle
Once owned by G.A.Rout Galashiels cycle club
More pictures
Lot 10A
Art Nouveau 'Liberty' style inkstand
Lot 11
French school poster 'Redoute des Etudiants Hiver' 1895-1895 16 Janvier
Lot 12
Hornby operating mail coach R401 boxed 00 gauge scale and a R863 brush type 4 class 47/48 diesel electric locomotive - silver seal 00 gauge (boxed)
Lot 13
Hornby R344 track cleaning car (boxed) and a Hornby R152 060 diesel electric shunter
Lot 14
Selection of Hornby 00 gauge wagons to include R102 Mineral wagon (boxed), R131 flatwagon with wheel load (boxed), R097 Arnold Sands, R208 Princess Open wagon (boxed), R206 Fish van Fine Fish (boxed), R162 closed van Prime Pork
Lot 15
ATRIX TTR 0-4-0 locomotive 30951 black
More pictures
Lot 16
Hornby 00 gauge model vans to include Ocean, Warener, Fyres Bananas, LMS etc also Hornby electrical controllers
Lot 17
Large model airplane with yellow livery and HB2' Lindean Charter wih fuel engine [260 cm wing span x 130cm long]
More pictures
Lot 18
A ' Schluter Junior 50' Model ' radio controlled flying helicopter [model fuel] L:109cm x H:11cm [rotar blades 116cm span, that also fold down]
Lot 19
Small model fuel engine aeroplane with radio controls [W:105cm x L:87cm]
More pictures
Lot 20
Beautiful pair of framed signed Harry Clow (1941-2004) pictures of horses on a beach. One with the two racing horses is a watercolour and the other we think is a print [both 44 x 52 ]
More pictures
Lot 21
Boxed Hornby collector club loco 2011 midland 0-4-0 R3069,boxed Triang/Hornby R150 S Loco R39 tender '61572'
Lot 22
Oliver Cromwell loco and tender 70013 00 gauge model (boxed) and a boxed 06103 British Railways train
Lot 23
Hornby 'Intercity' rolling stock x 2 and a diesel electric shunter with BR Green and 2 British Rail diesel electric locomotives
Lot 24
GWR loco 8751, loco 16440 with 2 carriages (all unboxed)
Lot 25
Large Bofa vintage technical drawing set D423
Lot 26
Tanglewood acoustic 6 string guitar by Tanglewood Guitar company model 'Premier' TW-170AS serial no 1016156 (with cover bag)
More pictures
Lot 27
Rosenthal 'Classic Rose' comprehensive (approx 101 piece approx) dinner service
More pictures
Lot 28
Hornby blue pullman electric train set
Lot 29
Large super quality solid brass swan bowl with marble base and glass insert
Lot 29A
Vintage mechanical 'singing' bird cage with 2 feathered birds (requires attention to clockwork a/f over-wound)
More pictures
Lot 30
Boxed of Hornby track accessories
Lot 31
Box of Triang model train power units
Lot 32
Rare Art Deco glass lamp and 'pineapple' style shade
More pictures
Lot 33
Gilded mantle clock
Lot 34
Large Afgani style rug approx 13ft by 10ft (excellent quality)
More pictures
Lot 35
Aneroid barometer, early Victorian (82cm approx)
Lot 36
Moorcroft long necked vase in 'BIRDS OF PARADISE' design
Lot 37
Moorcroft vase in Galanthus Snowdrop design approx 25cm high
More pictures
Lot 38
Moorcroft in Pansy design
More pictures
Lot 39
A beautiful example of a Christofle Orfever a Paris (fabulous quality) champagne bucket with its original box
More pictures
Lot 40
Rare display of native American items 3.5ft L x 18" D approx
Lot 41
An Edwardian curve and spindle backed corner chair
Lot 42
Arts and Crafts period brass and copper clock (in working order)
Lot 43
Vintage Liberty & Co Pewter raised bowl and vintage English pewter tray
Lot 44
Pair of Victorian opera glasses
Lot 45
Christofle Orvevre a Paris mahogany canteen with 2 drawers and land under the lift lid - anti tarnish Rubans et Croises (King and Bows) comprising 8 settings (Tables knives and forks, fruit forks, fish knives, fish forks, dessert spoons, soup spoons, tea spoons) and large carving knife and fork, 3 serving spoons
More pictures
Lot 46
Royal Worchester 'Bachamal' coffee set approx 24 piece
Lot 47
Two medical packs and extra bag
Lot 48
Verdigris effect censor with oriental design approx 33cm tall and 28cm wide
Lot 49
Royal Doulton 'Rondelay' part dinner service
Lot 50
Mid 20th century boxwood gavel with nice detail on handle AR
More pictures
Lot 50A
Pelham puppet 'Mother Bear' 6184. Handmade vintage puppet in box
Lot 50B
Pelham SS Dutch Girl hand made puppet in it's box
Lot 50C
Pelham 'Father Bear' hand made vintage puppet in it's box
Lot 50D
Pelham 'SS Dutch Boy' hand made puppet in it's box
Lot 51
Old Brass ships compass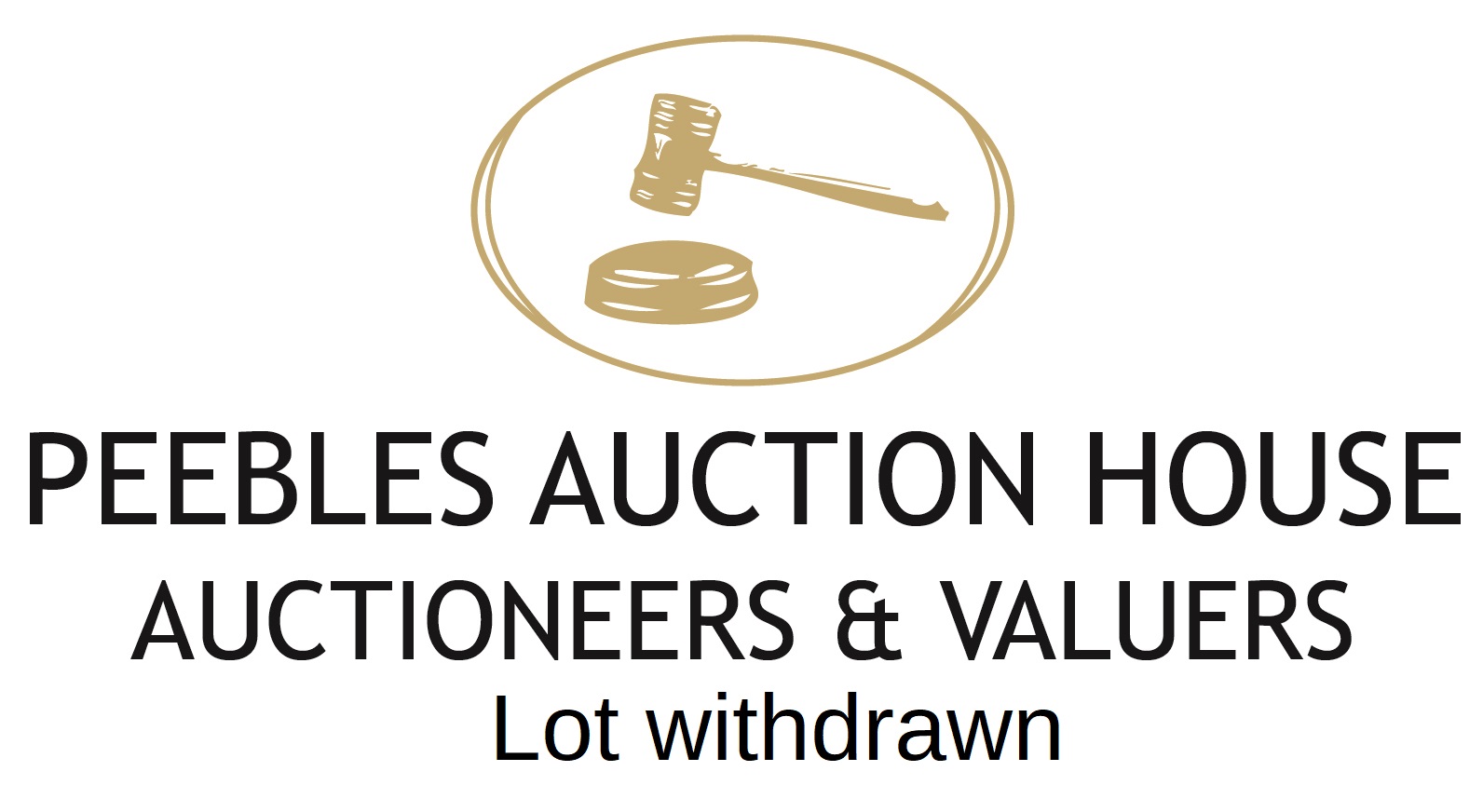 Lot 52
Withdrawn
Lot 53
A beautiful classical style bronze boy winged statue approx 65cm tall
More pictures
Lot 54
Maitland Smith winged horse bronze lamp with shade original cost £1500
More pictures
Lot 55
Maitland Smith winged horse cast bronze lamp with shade original cost £1500
More pictures
Lot 56
Marble top wash stand (probably Victorian) [106x53]cm
Lot 57
Stunning Maitland Smith cherub handled lamp original cost £2200
More pictures
Lot 58
Stunning Maitland Smith cherub handled lamp original cost £2200
More pictures
Lot 59
C.Edwardian wooden Model boat superbly made approx 180cm long
Lot 60
Art Deco oak and bronze tea caddy in Dalek form with lid (circa 1930's) approx 16.5cm tall AR
More pictures
Lot 60A
Two quality decanters
Lot 60B
Two quality decanters
Lot 60C
One quality decanter and port decanter
Lot 60D
Selection of scientific intruments to include Scifam electrical instrument co LTD type MRX rectifier, H W Sullivan of London instrument board and a John Eddie of Edinburgh University testing board
Lot 61
Oak barley twist barometer
Lot 62
Antique gunpowder flask (copper and brass)
Lot 63
A superior quality tempered glass table rectangular in size [2x1]m with Persian Travertine supports
Lot 63A
Georgian style extending dining table (1.8m unextended 3m extended 116cm wide) with walnut veneer and set of 8 carver dining chairs with panel backs
More pictures
Lot 64
Moorcroft vase in Harvest Poppy design approx 11cm high
More pictures
Lot 65
Moorcroft jug in Harvest Poppy design approx 19cm high
More pictures
Lot 66
Moorcroft vase in Harvest Poppy design and shape 6/8 approx 21cm tall
More pictures
Lot 67
Moorcroft 7.5cm vase in 'Paradise Found' design
More pictures
Lot 68
Moorcroft lidded trinket box in Paradise Lost Design approx 8cm across
More pictures
Lot 69
Moorcroft large vase in Paradise Found design shape No 70/11 approx 28cm high
More pictures
Lot 70
Royal Doulton figure HN2224 'Make Believe' approx 10cm high
Lot 70A
Wall hanging novelty frying pan clock
Lot 70B
Bust of a Buddha approx 30cm tall
Lot 70C
Vintage turn of the 20th century 'postcard album'
Lot 70D
Thai bronzed style Buddha statue
Lot 70E
Thai seated Buddha in Lotus possition, fibre glass for use exterior or interior [64cm x48cm]
Lot 70F
Large Buddha head [approx 110cm tall]
Lot 70G
Sholka stone Indian temple [Jaipur] so rare [ shipped and export now ceased]
More pictures
Lot 71
Victorian occasional carved oak chair, recently upholstered
Lot 72
Lovely Art Noveau copper plaque depicting beautiful pre-Raphaelite lady holding a butterfly on palm of her hand (circa 1900) [27.5 x 35]cm approx AR
More pictures
Lot 73
Anita Harris Art pottery vase (trial piece)
Lot 74
Viners pair of silver plated candlestick (in alpha design) approx 15cm tall
Lot 75
Szeiler model of a seal (rare) approx 10cm long
Lot 76
Masons 'Regency' dinner service
Lot 77
Late 19th century carved console table. (118cm L x 48cm W)
Lot 78
Belltrees Forge 'Leafy candelabra ' 24" diameter, 26" drop (RRP £230)
More pictures
Lot 79
Victorian hanging copper scales and copper choclate pot
Lot 80
Moorcroft vase in Rising Sun design approx 13.cm tall
More pictures
Lot 81
Lines Brothers Ltd large scale model of a four tonne Jones mobile crane
Lot 81A
Bing tinplate signal arm, 41cm. a Hornby 0 gauge goods platform [boxed]
Lot 82
Six etched sherry glasses
Lot 83
20th century chromed car mascot in the form of a female figure with outstreched arms. H: 20cm approx
Lot 84
Beautiful Art Nouveau copper trivet circa 1910 on brass splay legs beautifully embossed with dragonflies (collectors item) [40x24x14]cm approx
More pictures
Lot 85
MOORCROFT VASE Shape RM2/4 No16 IN THE DANCE OF THE BUMBLEBEE DESIGN. Signed By Designer Vicky Lovatt For a Moorcroft Designer event on 15 July 2017 and Was Sold Exclusively At Treeby Of Bolton
More pictures
Lot 86
19th century rosewood ladies travelling box (Hallstaff & Hanaford, 228 Regent Street) the top with blank glided inset plaque fitted to the interior with EP mounted bottlesm boxes etc with leather topped writing slope, jewellery box below [24x33]cm approx
More pictures
Lot 87
British Trade and Commerce clock face, with pendulum (working order)
Lot 88
20th century Majolica boat shaped centrepiece, the supports modelled as mermaids raised on a plynth base [H: 35 W:50]cm
Lot 89
Vintage HMV radio
Lot 90
Moorcroft vase in 'White Roses' design
More pictures
Lot 90A
A nice example of Edward of Glasgow chinoiserie clock (without key but ticks away)
Lot 90B
Oriental lantern
Lot 90C
Large quantity of Beano and Dandy comics 1994-98
Lot 90D
Chinese style verdigris glass cloche [18'' h]
Lot 90E
Chinese style verdigris glass cloche [18''h]
Lot 90F
Moroccan goatskin and henna imbelished floor lamp
More pictures
Lot 91
Set of old scales and weights with brass pans
Lot 92
Large mid 20th century bevelled mirror encased in wrought iron decorative doors (nice decorative item)
More pictures
Lot 92A
Framed Jack Morrocco DA acyrlic on board titled ' Light and shade' [8"x8"]
Lot 93
Late Edwardian oak hall stand with raised single drawer with original drip trays (7ft H x 90cm L x 35cm D approx)
Lot 93A
Indian Maharaja style 'Throne' chair [fabulous quality]
Lot 93B
Indian Maharaja style 'Throne ' chair [fabulous quality]
Lot 93C
Large hand carved hardwood bowl, from northern India, a/f
More pictures
Lot 93D
Indian hand carved swan with metal inlay
Lot 93E
Indian paper mache Diwali moquette figure [a/f]
More pictures
Lot 93F
Hand carved Indonesian dragon boat wall plaque
Lot 93G
A coffee root mushroom, made in India [h:3ft x d;24''] approx
More pictures
Lot 93H
A coffee root mushroom made in India h:5ft approx
Lot 93I
Kadai fire bowl [ brand new] d: 80 cm. made from recycled steel drums, as a high stand for BBQ's and low stand for use as a fire pit, with tri-pod stand and curry bowl.
More pictures
Lot 94
Rosenthal porcelain studio-line 8 cup tea set with sugar and cream and teapot
Lot 95
Moorcroft Early Pomegranate design pot. Signed To The Base width approx 11cm
More pictures
Lot 96
Oilograph on canvas of 'Boy blowing bubbles' by A M Pettec 1888 signed lower right hand corner in a quality gilt frame [36"x28"]
Lot 97
Susie Cooper, Wedgwood 'Glen Mist 'dinner and tea service
Lot 98
Edwardian Infantry sword stamped 6102 and 'Rove'. Blade length 82cm Handle length: 15cm
More pictures
Lot 99
Framed mixed media ' Old Farmers Wife' by A Paterson RSW, Cardross Dumbartonshire [w; 10cm x l;14 cm ]
More pictures
Lot 100
Apilco French porcelain tea and table ware
Lot 100A
Pair of weaving shuttles
Lot 100B
34 Pieces of EPNS cutlery and a Epns teapot set with tongs
Lot 100C
Royal Doulton 'DB6' 'Clean sweep'
Lot 100D
Royal Albert 'Jemima Puddleduck' figure (no chips or cracks)
Lot 100E
Selection of 3 china figures to include Royal Doulton DB5 'Autum Days', Royal Doulton DB64 'Policeman bunnykins', Royal Albert 'Tom Kitten' from Beatrix Potter
Lot 101
Solid teak cabinet from the Swat valley region, and put together with antique architrave doors rare to find and really ancient doors! [w:92cm x L:59cm x h:200cm]
More pictures
Lot 101A
Hand painted Rhajistan cabinet (Unique as no 2 pieces are ever painted the same) [w:94cm x l:47cm x h:200cm]
Lot 102
Oak print block circa 1880 incised and chisel cut with a view of Iona Abbey stamped to side Morrison, Glasgow
More pictures
Lot 103
Hornby Dublo 919 tank goods train set and boxed 2-6-4 locomotive 80054 BR blank
Lot 104
Hornby Dublo model railway 31025 LT25 2-8-0 freight locomotive and tender with boxed 31017 EDL 17 0-6-2 tank locomotive 695678 BR
Lot 105
2 pages to include 2 sketches and letter by Alberto Morrocco (OBE RSA RSW 1917-1998) [25x20]cm
Lot 106
German tinplate clockwork car elevator in style of Technoflix
More pictures
Lot 107
A good example of a framed map print (1968) of Barbadoes surveyed by William Mayo 1775 and engraved by Thos Jefferies (Geographer to the King)
More pictures
Lot 108
Framed good example and quality 1968 print of the West Indies from 1775
More pictures
Lot 109
A good example of a framed 1968 print of Bermudas from a survey by C.Lempriere from 1775
More pictures
Lot 110
Framed print of Queensferry crossing with Forth road bridge in background 110cm x 93cm
Lot 110D
'Smiths' 8 day clock in wooden style carriage casing approx 30cm tall
Lot 110E
Selection of ceramic wall ducks (1 Beswick) some with faults
Lot 111
Old leather gladstone style bag
Lot 112
Framed Blackwood and Smith solictors 1896 property advert printed by Watson and Smyth printers Peebles
Lot 113
Alexander H Thomson, watercolour of country house Exhibuted GI(1) fl 1938
Lot 114
Silver crown, England Charles II (1660-1685) dated 1676 vicesimo octavo, NF
More pictures
Lot 115
Walker & Hall hallmarked silver [1902 Sheffield ] Tea pot with milk and sugar, also a silver spoon
More pictures
Lot 116
Tyrells old tawny Port 'released exclussively to members of the Order of Australia' 750ml specially gifted from the Australian Government- approx 1970's The Order of Australia Association
Lot 117
Immortal memory 'Burns' Scotch whisky 70cl 40% volume
Lot 118
12 year old Scotch whisky Syndicate whisky vintage bottle 70cl 40% volume
More pictures
Lot 119
Russian silver whisky label inset with black enamel (probably circa 1900) bearing faberge type marks together with late Victorian lead glass decanter and stopper (circa 1870's) AR
More pictures
Lot 120
Mappin & Webb snakeskin handbag with matching coin purse
Lot 121
Unhallmarked yellow metal ring size Q/R gross 4.6g
Lot 122
White Ragstar gents chronograph watch [boxed as new]
More pictures
Lot 123
Ladies black Globenfeld watch [ boxed as new]
More pictures
Lot 124
Gents black Globenfeld watch [boxed as new]
More pictures
Lot 125
Gents Sports Globenfeld watch [boxed as new]
More pictures
Lot 126
Rotary ladies steel wrist watch [bezel missing]
Lot 127
Ragstar watch pink boxed as new
More pictures
Lot 128
Ragstar watch blue boxed as new
More pictures
Lot 129
Neat Edwardian Chester hallmarked silver repousse serpentine shaped jewellery box with hinged velvet cover, satin interior and velvet lined. Exterior chased with continuous band of figures within village scene. Dates to 1904 AR
More pictures
Lot 130
TAG Heuer 'Link' watch with white face, water proof to 200m. Serial WT1214-0 Q20803
More pictures
Lot 130A
Gents TAG HEUER 'Monoco' GP stainless steel wrist watch with case, original brouchres and proof of purchase Model No CK1116-O
More pictures
Lot 130B
'Corum' made 20 Dollar 1907 coin gold watch [750] 18ct. With small diamond on winder. Vintage very rare and collectable watch. no box and no paper work, from a genuine local family. cost new £12,000. [full working order]
More pictures
Lot 130C
White chased metal Dunhill lighter c1970's,
More pictures
Lot 130D
Victorian yellow metal locket and miniature propelling pencil
More pictures
Lot 130E
Christian Dior gold plated gents wrist watch, with numbers depicted in precious stones , with box and paperwork [purchased in Dubai circa 1990, never worn]
More pictures
Lot 131
Swarovski 'Stardust' bracelet gross 20g approx
Lot 132
Box of unuasual liquers
Lot 133
Modern 9ct gold cameo brooch gross 12.3g approx
More pictures
Lot 134
Gents Omega 'Automatic' wrist watch
Lot 135
Two WWI campaign medals
Lot 136
9ct gold citrine brooch gross weight 7.6g approx
More pictures
Lot 137
Two Eastern daggers
Lot 138
Maurice Lacroix 18ct on steel watch with white face and roman numeral dial. Serial: AF47554 79861
Lot 139
Lovely late Victorian white metal embossed christening cup. Made by Hood and Toby for Walker and Hall AR
More pictures
Lot 140
Royal Albert china mantle clock (16cm) in Old Country Roses design with 2 same design ginger jars
Lot 141
Julia Design studio metal/enamel lidded trinket box in form of Border Terrier
Lot 142
Royal Albert china bread/butter plate in Old Country Roses design
Lot 143
Royal Albert china gravy boat in tranquility design
Lot 144
Frog shaped netsuke style curio
Lot 144A
Snake shaped netsuke style curio
Lot 145
Black Forest carved oak book stand
Lot 146
Border Oak paddle board by Louise Miller holding six shot glasses ( Real World Studios) as new.
Lot 147
Tall tea light holder double heart made from local Border Elm by Louise Miller (Real World Studios) as new
Lot 148
Six Portmerion plates and 2 Portmerion planters
Lot 149
Greek school-a grade Barbara Hepworth type cast bronze of two figures cradling (signed to back) AR
More pictures
Lot 150
Ladies 'Tous' holdall and a 'Bulaggi' ladies handbag
Lot 151
Torquay ware Long park vase featuring a kingfisher motif approx. 26cm tall
Lot 152
Maws and Co Victorian tiled tray
Lot 153
Signed Anita Harris Pottery Buddha approx. 22cm tall
Lot 154
Extending telescope by Ottaway of Ealing dated 1915
Lot 155
16 pieces of Alfred Meakin Art Deco tea set
Lot 156
Crown Ducal Art Deco jug (22cm) and Mason's green applique jug approx. 14cm
Lot 157
Caithness crystal glass atomiser
Lot 158
Royal Navy First World War monocular dated 1915. 8cm tall
Lot 159
Phrenology Head 30cm tall
Lot 160
Pair of Kosta Boda Swedish glass snowflake candle holders
Lot 161
Iconic Guy Rodgers retro easy chair with teak base
Lot 162
Indian tree pattern tea set
Lot 163
Seven Red dessert wine glasses by Rosenthal
Lot 164
9 White wine glasses by Rosenthal
Lot 165
Model paddle steamer 'The L'Orenogue' 1848. scale 1:100 [835mm long x 455mm high] with original plan to build
Lot 166
Oil painting of a Canadian scene 50x60cm
More pictures
Lot 166A
Framed Victorian alphabet sampler, nice example [24''x 20''] approx
Lot 166B
2 Framed hand painted Persian scenes on silk
Lot 166C
2 Framed hand painted Persian scenes on silk
Lot 167
Greg Bennett Ukulele model UK60 (slight attention needed to back of instrument)
More pictures
Lot 168
Very large 'Amateur Astronomer' telescope, N0286- 1995 on tripod...it's a Whopper!
Lot 169
Ozark Tenor acoustic guitar (mini Tenor) with bag
More pictures
Lot 170
'Daddy's little Girl' statue made from British Coal (unusual)
Lot 171
19th Century High spindle back mahogany chair with padded seat circa 19th century
Lot 172
Tapestry bell pull (108cm approx)
Lot 173
Superb example of mid/late 17th century style oak low dresser with 4 drawers and brass escutcheon handles and oak plank shelf to base [W: 220 D:50 H:83]cm
More pictures
Lot 174
Brought Monchelsea large studio pottery wall clock D:27cm
Lot 175
Cast iron 8 branch candle holder
Lot 176
Low bow chest of 4 drawers on table
Lot 177
Pair of Art Deco stylish bookends and a wooden letter rack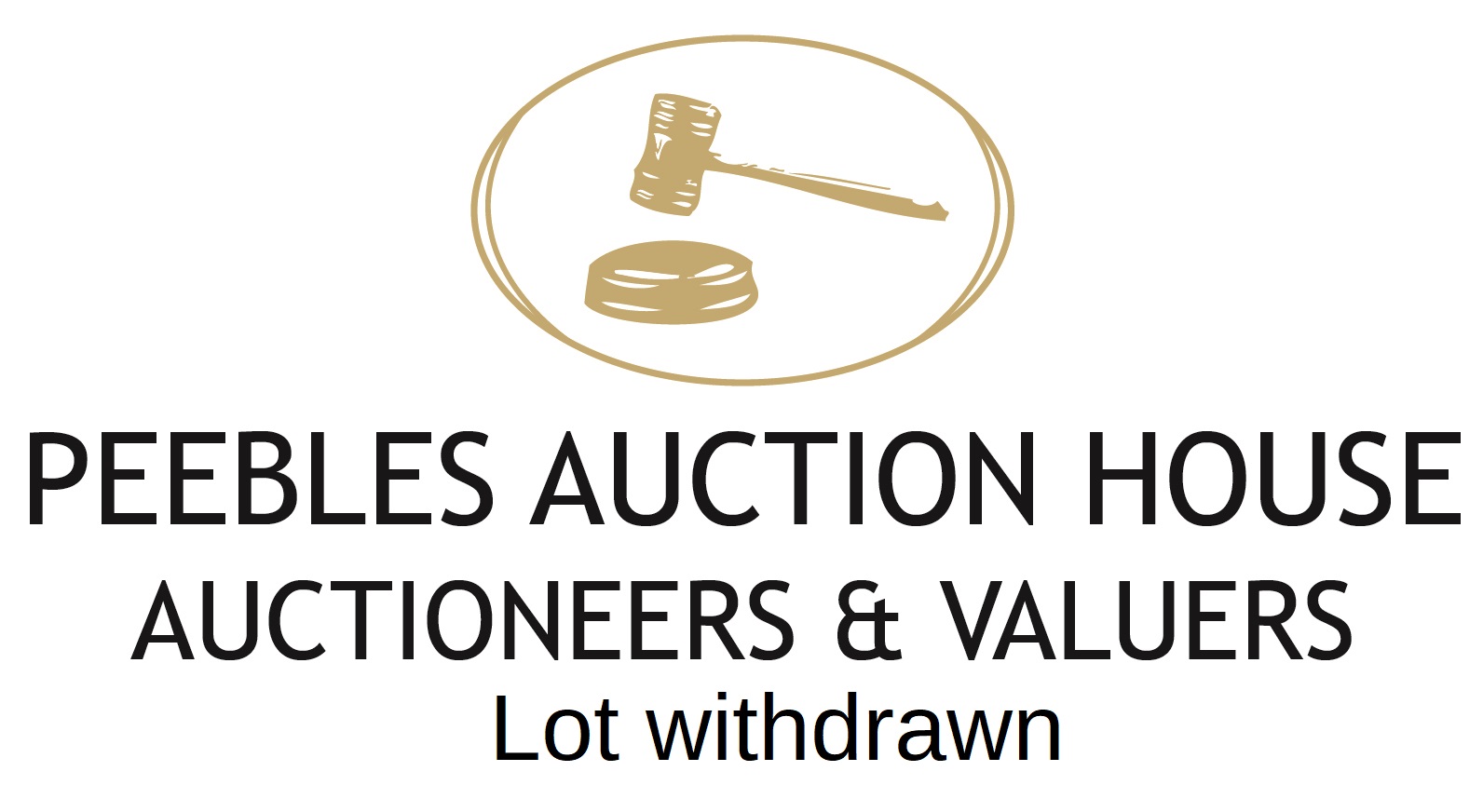 Lot 178
Withdrawn
Lot 179
Framed acrylic still life by A Montgomery [40x42]cm
Lot 180
A small canteen of 6 teaspoons and a six place setting canteen of fish knives and forks
More pictures
Lot 181
Royal Doulton 'The Duchess of York' HN 3086 limited edition 331/1500 dated 1986
More pictures
Lot 182
Boxed London microscope
More pictures
Lot 183
Ailsa Craig curling stone (handle missing)
Lot 184
J McIntosh Patrick print 'Coarse Farmland' No. 428 (70cmx75cm approx) in gilt frame
Lot 185
Stunning hand carved ram sheep
Lot 186
Stunning hand carved ram sheep
Lot 187
Four pieces of Portmerion in Botanic Garden design
Lot 188
2 Framed prints of 1930s posters for Edinburgh Sick children's hospital appeal. Original by Tom Curr printed by Mclagan and Cumming Edinburgh 40 x 31 cm
Lot 189
Framed 1930s golf cartoon originally published in Punch Magazine 33 x 26 cm
Lot 190
Framed print of HMS Victory [65x55]cm
Lot 191
Framed embroidered picture [67cm x 55cm]
Lot 192
Boosey and Hawkes flute in treen case
Lot 193
Pair of carved Oriental scene pictures [H:73 W:43]cm (good quality)
Lot 194
Lorna Bailey vase in Pyramid design (signed to base) approx 20cm
Lot 195
Lorna Bailey vase in Charles Rennie Mackintosh style design approx 15cm high
Lot 196
Aboriginal style Didgeridoo
Lot 197
Boxed set of Lemony Snicket books "A series of unfortunate events" books 1-10
Lot 198
Portmeiron teapot, sugar and cream in holly and ivy design
Lot 199
Selection of LP's to include Meat Loaf, Stevie Wonder, Bruce Springsteen, Eric Clapton, Buddy Holly, Steely Dan, Paul Simon, Fleetwood Mac, Ten Years after, Dan McLean, Dire Staits, Bad Company, Rolling Stones etc (25)
Lot 200
Mc Ewan's pub wall mirror
Lot 200A
Two Sandeman Sherry figures approx 25 and 22cm tall
Lot 201
Le Crueset casserole dish in volcanic orange with lid [D:21cm]
Lot 202
Small skillet approx wide in Volcanic orange (Le Cruset style)
Lot 203
Small bright red/orange coloured ceramic casserole dish D: 17cm approx
Lot 204
Selection of Mason plates (5)
Lot 205
EP 3 piece tea service
Lot 206
Two Coalport female figures 'Debutante of the year' and 'Beau Monde'
More pictures
Lot 207
Two Coalport female figures 'Kerry' and 'Carla'
More pictures
Lot 208
Spode blue and white patterened teapot
Lot 209
Framed Christine MacDonald oil on board titled 'Kyle of Toungue' [59x69]cm approx
Lot 210
Elaine Grimshaw framed pastel titled ' Isle of Skye'
Lot 210A
Selection of framed and unframed pastels of canine interest and 1 of golf interest
Lot 211
Good quality wall mirror (32"x24")
Lot 212
1 large box of some Pewter and Pewter style tankards
Lot 213
Old white painted small 3 legged stool
Lot 214
Maori tribal ceremonial axe on a stand
Lot 215
11 Limousin mugs
Lot 216
Large kitchen dining table (6ft L x 3ft W) made form Indonesian wood, good quality purchased from 'Dawe Antiques' and 6 matching dining solid chairs
Lot 217
Unusual companion set in shape of a sail
Lot 218
Old Brass quill and ink holder
Lot 219
Framed oil of a river scene [58x43]cm
Lot 220
Two framed watercolours, 1 of Paignton by Thomas Stenley [48x37]cm approx
Lot 220A
Vintage brass graduated motar and pestles (3)
Lot 221
Two Engela framed watercolours of Mediteranean scenes [48x58]cm approx
Lot 222
Vintage Fry's chocolate box [28x17x10]cm approx
Lot 223
Wrought iron pagoda style candle holder [15x15x15]cm
Lot 224
Dorothy Perking ebony black patent high heels [size 7 UK]
Lot 225
Dorothy Perkins pewter Saskia high heeled sandal [size 6 UK]
Lot 226
Dorothy Perkins Farna black patent style high heels[size 7 UK]
Lot 227
Dorothy Perkins black Farna patent style ladies high heels [size 8 UK]
Lot 228
Dorothy Perkins black Farna patent style ladies high heels [size 8 UK]
Lot 229
Wedgwood china trumpet vase in Chinese Legend design
Lot 230
Black iron boot scraper [12'' high approx]
Lot 230A
Set of 3 handmade fire engine red tin flying machines to include aeroplane and 2 helicoptors
Lot 231
Selection of prints to include Picasso [47x65]cm, Limited edition black and white print etc (5)
Lot 232
Two wicker baskets, 1 a carry basket with wooden handles W:65cm
Lot 233
Yamaha keyboard model PS-20 'Automatic Bass Chord system) in case
Lot 234
Fruits accroches le long de notre vie print (25/100) by Theo Tobiasse [120x90]cm
Lot 235
Jelly pan, large twin handled copper style bucket etc
Lot 236
Comprehensive canteen of bronze style cutlery
Lot 237
Blue glass bowl and blue glass figure
Lot 238
Garrard turntable
Lot 239
Oak cased fish knives and forks, wine slide etc
Lot 240
Heathcote 9 coffee cup set (22 piece approx overall)
Lot 240A
'Mahalo' Ukulele (L:50cm approx) in purple with small bag
Lot 241
Wedgwood 'Countryware' teaset
Lot 242
Pair of gilt table lamps
Lot 243
Wedgwood bowl, tureens and covers
Lot 244
Quality Mixed lot to include hardwood stand, Imari vase etc
Lot 245
Two vintage cases
Lot 246
Collector atlas of early style maps of Britain by Willem & Johan Blaeu 1635-1648-1651
Lot 247
Samuel Robin Spark, framed watercolour of a abstract nude (son of writer Muriel Spark) [68x52]cm
Lot 248
Sir Edward Lanseer framed print titled 'Wild Cattle at Chillingham' [48x62]cm
Lot 249
Set of 4 French Golfing prints [29x33]cm